Who am I?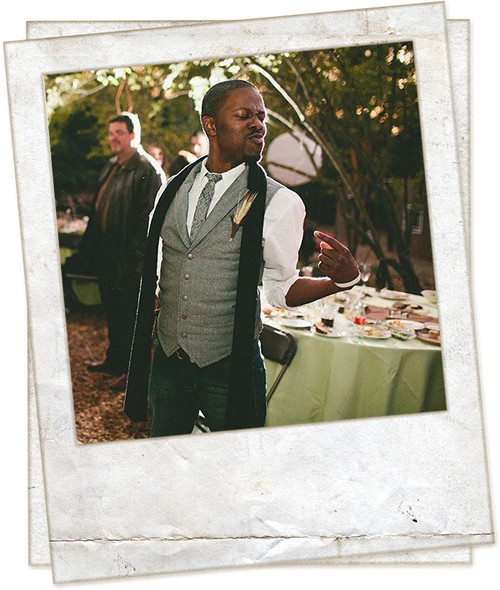 I'm a regular guy with a big WHY. My WHY is simple: I wake up every day with a mission to Awaken Possibility in myself and others. I view life as an amazing adventure; full of risk and ample opportunity to make a difference. I'm passionate about making ideas happen and seeing people awaken to their own possibility and potential. Below is a little bit about me and how I am Awakening Possibility in myself and others.
I'm the Co-Founder of Spendefy™, a digital platform that makes it easy for consumers to discover amazing black-owned businesses in their city. We started Spendefy because we believed that the world needed a solution we could all believe in. We wanted to create a platform that leveraged the power of consumerism for economic and social good. And we did. Now, thousands of black-owned businesses across the US are able to get exposure and access to new and loyal customers every day because of Spendefy.
I also serve as the Managing Partner and Head of Digital Branding at 4THPARK™, a digital branding agency that focuses on helping companies position their brand online. We started 4THPARK because we believed that the world needed a different kind of agency. We wanted to start an agency that understood the power of the Internet. Since we started, we've had the privilege of working with more than 100 clients, ranging from startups to non-profits. We use the Internet as a medium for positioning their brands in the online marketplace. And we love what we do! :)
I'm insanely in love with Jesus Christ, and I could go on and on about why, but it's not because of religion… I can assure you that. I devoted my life to Christ after hearing and receiving the message of the Gospel one night during the month of September 2004. However, I'm probably the most non-religious person you'd ever meet. Sounds confusing? I would love to go into more detail if you'd like to know.
I'm a graduate of Georgia State University with a BBA in Marketing. Ask me what I plan on doing, and I'll tell you, "Awaken Possibility!" How's that for a job interview or resume? lol.
I'm very passionate about life and I'm a big proponent of the idea of living at your maximum potential. It blows my mind that so many people are not as pumped about life. I wish more people lived life on purpose; on edge. I really believe that a lot of people are living life so unfulfilled; doing things they hate every day until they die – and it bothers me. I believe we are all a solution and an answer to a problem. So why waste your life when you can leverage it for something way bigger than yourself?
Here's one thing that's for sure: You only get ONE life.
With that being said, I've sort of made my life an experiment to see if it's really possible to do what you love, love what you do, and leave the rest to the naysayers. So far, it's proven to be true. I've had tons of WOW experiences and I've met people that I would have never met if I hadn't begun to Awaken Possibility in my OWN life!
Let's be honest! It's not every day that you meet a young black male talking about Jesus, living at your maximum potential, awakening possibility and being a solution to a problem. I take that as my personal responsibility to show the world that greatness and genius don't all look the same and don't just exist in the hallways of Harvard and Google. Potential and possibility lie within all of us. It just takes someone bold enough to awaken it and live it out. So you better believe I'm up for the challenge! Are you?
Since building my first internet business while in college, I've had the awesome opportunity to network and work with a lot of creative and passionate people. I've also coached more than 100 clients and consulted more than 25 organizations and companies around the US on branding, marketing, and design. Some of the coolest experiences of my life have happened while working with people who share the same beliefs and values as I do.
At my core, I'm an builder. A strategist. An awakener. An entrepreneur. A listener. A thinker. A designer. And a lover of life.
Looking to the future, I hope to write a few books of my own someday – top secret – as well as launch a few projects, ideas, and business ventures with some really neat people. My goal is simple – To Awaken Possibility… of course. But even deeper than that, I have a great passion for business, marketing, and branding. If I'm lucky, I will be spending the rest of my life creating, funding, establishing and stewarding brands, big ideas and business ventures in the marketplace; building platforms strong enough for others to stand on; providing access, opportunity, space and capital to the right people with the right answers; and inspiring a generation to be Solutionaries™. We'll see what all the future holds. :)
My Top 10's
MY TOP 10 INTERESTING FACTS

1. I listen to Christmas music year-round.
2. My dream is to spend the rest of my life awakening possibility in myself and in others. That's it.
3. I eat my ice cream with milk.
4. I enjoy cleaning out my ears with Q-tips.
5. I organize my socks and underwear.
6. I enjoy rubbing my feet before I go to sleep.
7. I'm an introvert when you meet me and an extrovert once you know me.
8. I am a skilled freestyle dancer and pianist.
9. I only write with Pilot G-2 Gel Ink Pens.
10. I make random noises and sing random songs while working alone.

MY TOP 10 FAVORITE THINGS

1. 4THPARK
2. Spendefy
3. Branding & Marketing
4. Financial Freedom
5. YouTube
6. Podio
7. The Internet
8. Systems & Processes
9. Tesla
10. Listening

MY TOP 10 FAVORITE PEOPLE