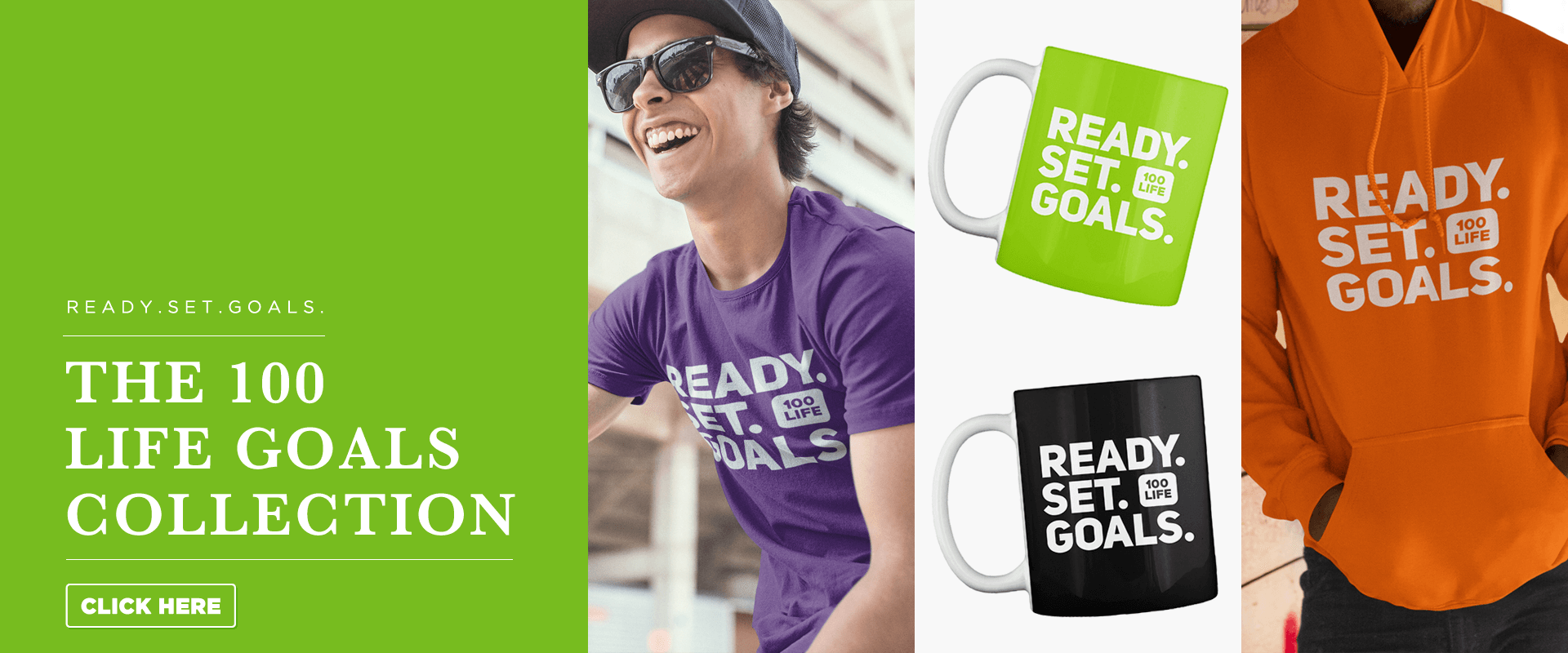 How many people do you know that can actually zoom out 30,000 ft., view the progress of their life, and identify where they have set goals and accomplished them? Not many. Most of us live like the wind – moving to and fro from one day to the next. I find myself living like this as well at times.
However, I believe in the idea that our lives are more than just happenstance. I believe we all have a role in designing and cultivating the life we want. I call this lifestyle design. Setting goals is not just about accomplishing a list of 2-do's. It's a starting point toward designing the life you want.
Below are a list of goals, my 100 Life Goals. These are points-of-progress on my journey to a life by design. If you're interested in learning more about 100 Life Goals, feel free to join our mailing list below and buy from our 100 Life Goals Collection!
Experience Goals
1. Have lunch with a successful philanthropreneur.
[DONE] = Mark "Dill" Driscoll of Ignition Inc.
2. Speak at a business, tech, leadership, or web conference.
3. Sing at a major conference.
[DONE]
= Catalyst Conference 2009, Orange Conference 2009, 2010, 2011 & 2015
4. Attend a book signing.
[DONE]
= Gary Vaynerchuk, Chris Gullibeau & Fly Musiq
5. Write and publish an ebook.
6. Write and publish a book.
7. Perform infront of a stadium of people.
[DONE]
= New Birth Easter Service at the Georgia Dome on March 23, 2008 (50,000 attendees)
8. Host a creative workshop. 
[DONE]
= Launched The Playground on September 7, 2012
9. Design a Brandbook.
10. Purchase a pair of TOMS Shoes.
[DONE]
11. Meditate with a Monk.
12. Attend an electronic rave festival.
[DONE] = Attended Tomorrow World in 2015 
13. Throw a party for everyone else on my birthday.
14. Get casted as an extra in a film, tv show, or commercial.
[DONE]
= Casted as an extra in MTV's "Yo' Mama" & Flame's music video "Joyful Noise"
15. Paint a canvas and place it on my wall.
16. Graduate from GSU with a BBA in Marketing.
[DONE]

= Graduated on December 15, 2010 
17. Post a YouTube video that generates 1 million views.
18. Go on a missions trip.
19. Own a piece of art from an artist I admire.
20. Go scuba diving.
21. Attend SXSW.
22. Attend a tech conference.
[DONE] = Attended the Black Enterprise TechConneXt Summit in 2016 
23. Attend a leadership conference.
[DONE]
= Catalyst Conference 2008 to 2013 | Orange Conference 2009 to 2012
24. Meet
Steve Stoute
.
25. Meet Oprah.
 [ALMOST DONE] 
= Attended Oprah's 2011
O You!
Event in Atlanta, GA
26. Attend a rave party. 
[DONE]
 = Masquerade Atlanta on December 4, 2011
Financial Goals
1. Save 8 months of expenses in an Emergency Fund.
[DONE]
= Completed on July 2012
2. Pay off all credit cards.
[DONE]
= Paid off Dec. 2009
3. Open up a Roth IRA Investment Account.
[DONE]

= Opened August 21, 2012 
4. Pay off all student loans by 2020.
5. Pay off all debts, except re-occurring bills by 2020.
6. Save and buy a used car cash.
[DONE]

= Purchased a 1997 Nissan Altima
7. Save and buy a new red Tesla Model S with cash for $95,000.
8. Save and purchase a rental property.
[DONE] = Completed October 7, 2019 (The Agnes House)
9. Create 4 viable streams of income. [DONE] = Completed November, 2014 (4THPARK, Backpack Host, LegalShield & Impact Church)
10. Save $5,000.

[DONE]


11. Save $10,000.

[DONE]


12. Save $25,000.

[DONE]


13. Save $50,000.

[DONE]


14. Save $100,000.

[DONE]


15. Save $500,000.
16. Save $1,000,000.

Business Goals
1. Launch my first company. 
[DONE] = Launched 4THPARK in January 2011
2. Incorporate 4THPARK. 
[DONE] 
= Certified as an LLC on January 20, 2012
3. Build a creative team at 4THPARK.
[DONE]

= Expanded team in February 2013
4. Hire an attorney.
[DONE] 
= Got legal coverage with LegalShield in November 2014
5. Hire my first intern at 4THPARK.
[DONE] 
= Completed May 2013
6. Generate $100,000 in revenue in a single year in business.
[DONE] 
= Reached on September 28, 2018
7. Generate $500,000 in revenue in a single year in business.
8. Purchase a house, loft, or office space for 4THPARK.
[DONE] 
= Leased a loft space on September 1, 2014
9. Start a product-based company.
[DONE]
= Launched Kinderly Co. in November 2017.
10. Develop products that generate $1 million+ in annual sales.
11.Start a subscription-based company.
[DONE] 
= Launched Spendefy in January 2016 and Backpack Host in September 2012
12. Acquire a company.
Travel Goals
1. Visit a community of believers in a tribal region of the world.
2. Visit and walk a portion of the Great Wall of China.
3. Visit Italy & eat a slice of real pizza.
4. Visit Google headquarters.
[DONE]
= Visited Google Headquarters on October 13, 2016
5. Visit Facebook headquarters.
6. Visit an award-winning design/creative studio.
7. Go on a pilgrimage to Israel.
8. Go on an African safari.
9. Visit Europe.
10. Visit the city of Dubai.
11. Visit New York City.
[DONE]
= Traveled to New York on March 24, 2012 for a week and on August 7, 2016 for a week
12. Go on a cruise.
13. Take a roadtrip out west.
[DONE]
= Traveled out west to Las Vegas on July 23, 2013 for a week
Giving Goals

1. Sponsor a child.
2. Sponsor a family.
3. Fund a teenager's way through college.
4. Buy a car for single mother with kids.
5. Create a foundation to fund a cause.

Influence Goals
1. Lead 100 people to a passion-filled life in Christ.
= 2 of 100
2. Rally 1,000 people around a social cause.
3. Help 10 people accomplish a life goal.
= 1 of 10
4. Mentor a group of young guys for a year.
5. Rethink and redesign a ministry.
[DONE]
= HYPE Student Ministry in Spring 2011
Family Goals
1. Take my mom out to an event for a mother/son date.
[DONE]
2. Marry a beautiful God-fearing woman.
3. Take my 4 nephews on a roadtrip.
4. Live to meet my grandkids.
5. Help give birth to a handsome, healthy son.
6. Help plan and prepare an occasion for my grandparents.
[DONE]
= Their 60th Anniversary
7. Adopt a child.
8. Assist in sending all 4 of my nephews to college.
= 2 of 4 nephews
Physical Goals
1. Complete P90X.
2. Participate in a cycling tour.
3. Shop at healthy organic food stores only for a year.
4. Be a vegetarian for a month.
5. Refrain from eating Fast Food for a year.
6. Get a full-body massage.
[DONE]

= Got a full-body massage with my girlfriend on August, 17, 2017
7. Drink only water and juice with food for a year.
8. Build a muscular physic similar to Michael B Jordan.
9. Become a morning jogger.
Skill-Set Goals
1. Become a brand consultant.
[DONE]

= Officially began serving as a Brand Adviser for brands as of May 2015
2. Become a keynote speaker.
3. Become a graphic designer.
[DONE]

= Officially began designing for clients as of February 2008
4. Become a winemaker.
5. Become a cyclist.
[DONE] = Purchased a brand new aero-dynamic, fully carbon fiber Kestrel Talon X Road Bike with Ultegra shifters, breaks, and gears on February 2, 2019 and went on my first ride on February 3, 2019 (Super Bowl Day in Atlanta, GA).
6. Become a writer.
7. Become an angel investor.
8. Become a photographer.
[DONE]

= Purchased a Nikon D5300 on March 1, 2014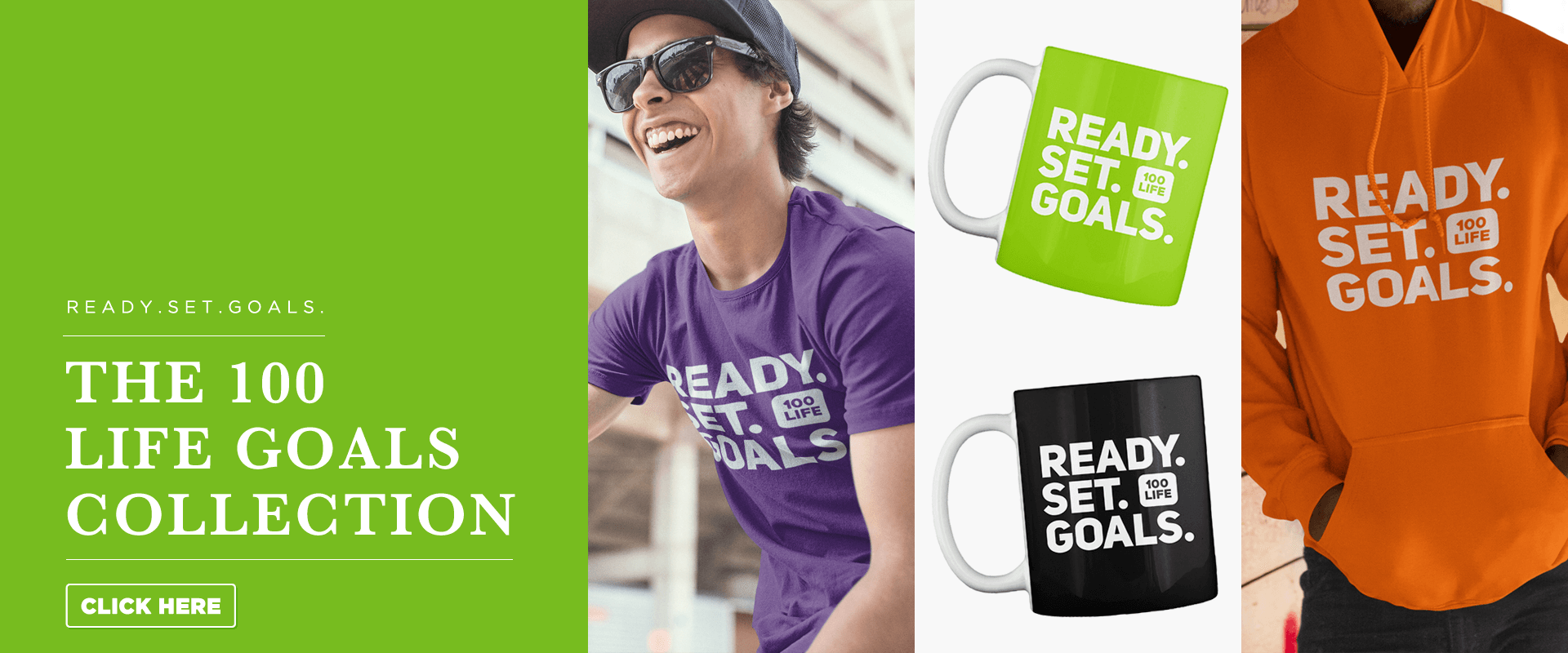 Interested in learning more about our 100 Life Goals & Awakening Possibility products?
Join our mailing list below and stay informed! Also visit our 100 Life Goals Collection here.